If you think you're the right person, come and join us!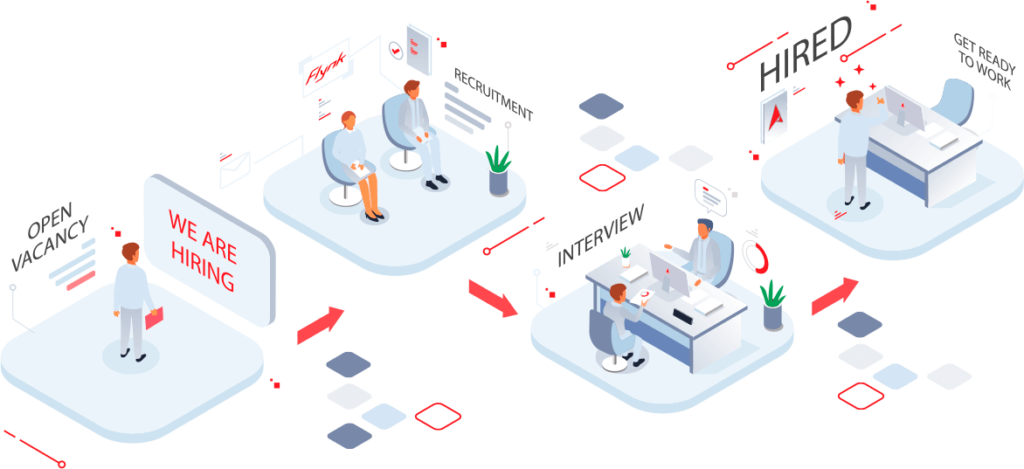 Digital Marketing Executive
We're on the hunt for a talented, results-focused Digital Marketing maverick to bolster our marketing efforts. Take the lead and champion our digital marketing efforts by helping us take our online efforts to new heights!
About the role
Based in our new modern office, you will join a small but highly skilled technology development team working with international partners and clients. Your role will be to develop and execute marketing initiatives for Flynk, its clients and their products. These activities will span the breath of marketing and digital marketing including branding, social media campaigns, SEO, design, growth and product. This role would suit someone interested in a dynamic and varied role.
This is a start-up like environment, and you may be required to assist with some activities outside of marketing as required so an open attitude is a must.
This is an exciting time to be in the Digital space, and we are looking for talented people to deliver exceptional service to our internal and external clients.
RESPONSIBILITIES:
Your role will be to develop and execute marketing initiatives for Flynk, its clients and their products. These activities will span the breath of  digital marketing including:
Branding,
Social media campaigns,
SEO,
Design direction and content,
Growth hacking
Product Management
Marketing Reporting
This role would suit someone interested in a dynamic and varied role with an ability to pick things up quickly and someone who can work and learn independently.
Your Skills and Experience
Our ideal candidate is someone with talent and an unquenchable thirst to learn and develop their personal and professional skills and capabilities. You will be known for being digitally savvy and have a good grasp of the latest technology and trends relating to digital marketing. You must have an interest in B2C, B2B, growth hacking, SEO and Branding.
Other important qualities are:
Analytical with good Attention to detail
Good work ethic and be comfortable working in a fast-paced, deadline-driven environment.
Self-starter – takes initiative
Results orientated with a sense of ownership
Great English communication skills and interpersonal skills.
Team player with superb collaboration and communication skills.
Independent and self-organized
A creative 'out-of-the-box' thinker
An eye for good design – design software skills highly regarded
In addition to having the right qualities, you should have a proven track record of success in a digital marketing role and include some time at a digital marketing agency implementing digital omni-channel/social media marketing campaigns or similar. Your experience should include using marketing automation, email marketing, and other related platforms.
Although a strong work history will be viewed favorably, we will also consider candidates with less experience but with high potential, so you are encouraged to apply.
A Bachelor's degree in marketing, communications, advertising, or a related field is not necessary however it will be highly regarded.
Why You'll Love Working Here
As a key member of the team, you'll have a say in which employee perks we should provide you.
Remuneration:
Competitive salary and excellent benefits
Bonus: performance and loyalty bonuses, team bonus, annual bonus (13th-month salary)
Salary review based on performance (every 3-6 months)
Health insurance
Social insurance, medical insurance, unemployment insurance according to Vietnam Labor Law
Development opportunities
There's unlimited potential for career growth because we are small and fast-growing
Work in a vibrant and energetic space with startups and talented pros
Work for an international company with the potential for travel to Australia
Perks and benefits:
Flexible working hours
Laptop + 2nd monitor
15 paid vacation days/year
Annual company trips & regular team building activities
Unlimited snacks, and drinks
Happy Fridays with discretional food and games
APPLY NOW
We're open to applicants with any level of experience. Just starting out? Certified pro? Want to make a career change? We are committed to developing and training our team. So apply now as our team is constantly growing and you might be the perfect fit.
Stand out!
When submitting your application, show us what you have got and get creative! We are expecting a lot of responses, so ensure you stand out against the other applicants and take a risk to set yourself apart! Show us you have read this job advertisement, by making a mock digital or pay-per-click style advertisement for yourself or your expertise on whatever platform your most comfortable with.
HOTLINE: 0943561135 (Ms Nguyệt)